'Evidence-Based HR' – ran from August 2010 to July 2012 and contained 110 of my posts (email if you need to read any). Many of the ideas expressed here, and the research behind them, were incorporated into my 2013 book "Professional HR. Evidence-Based People Management & Development". This demonstrates how anyone wanting to be a top HR Professional has to become evidence-based and working in a mature, organizational environment.  If you want to understand the concept and principles of HR maturity you can now join the new, professional Maturity Institute – MI – that has been established for that very purpose.
Paul Kearns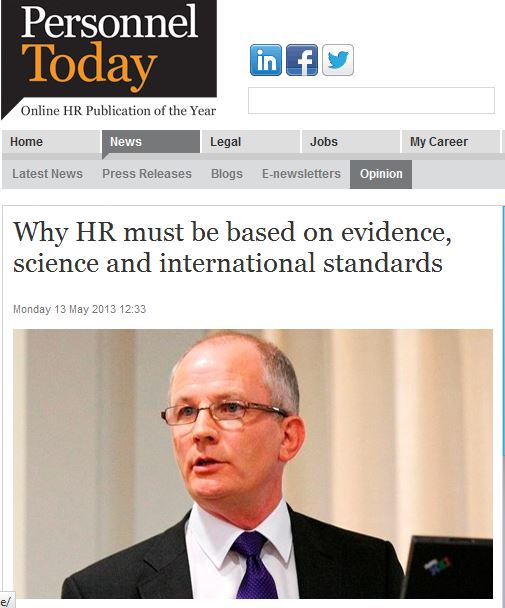 "That's the state of play in human resources today mindless imitation of what others are doing, little to no systematic evaluation of the effectiveness of management practices and programs, infrequent data-driven diagnoses of the problems HR is expected to address, in short, little of the professionalism now almost taken for granted in medicine, to take just one example."
From the Foreword to the book by Professor Jeffrey Pfeffer, Thomas D. Dee II Professor of Organizational Behavior, Graduate School of Business, Stanford University, co-author of 'Hard Facts' and a leading advocate of evidence-based management.
Reviews
'This is an important book that provides a positive road map for the future of the H.R. profession. Its importance lies in its willingness to address the big questions: why has Human Resources been at the crossroads for over a decade? What does it mean to operate as an H.R. professional? How can H.R. apply evidence based practice to be more systematic in its priorities and evaluate the business impact of its activities?
The book, a combination of analysis, argument and anecdote, check-lists and case studies, ranges far and wide in exploring the debate about the role of Human Resources, the nature of professionalism and the utilisation of evidence based practice.
Professional HR is also a refreshingly authentic book that provides a candid insight into the connections between academic research, consultancy activity and H.R. practice. Paul Kearns takes on with insight and courage: snake-oil consultancies selling solutions of dubious value; the academics that gave their blessing to any number of flawed research wheezes; those H.R. practitioners who valued prize winning more than the implementation of processes that "worked"; and the various professional bodies that stood on the side-lines rather than a take a lead in raising and reinforcing standards.
For some, this book – with its willingness to "name and shame" several of the players who contributed to H.R.'s current reputation – will be an awkward reminder of a past that missed opportunities to establish Human Resources as a critical component of organisational success. For the emerging H.R. practitioner who wants to make a positive impact through a combination of a professional ethos and evidence based practice, Professional HR will be indispensable reading.'
Andrew Munro, Director of AM Azure Consulting
'Kearns' book is a timely reminder that neither precise, legally enforceable regulations nor reliance on human moral points of failure can address the paucity of moral courage and deliberate systemic myopia of our political and corporate leaders, or of academic experts. What he is seeking is a widening of the purpose of management to include value to society, humanity and stewardship and to resist the corrosive effects of relying on narrow performance measures like profit. Kearns is advocating that his brand of professionalism be central to organisational life. He asks the right questions, itself doubtless a process of testing hypotheses and paying attention to the quality and relevance of data, blending critique of methodology with topical examples and practical checklists. Kearns' Professional HR, to be sure, is worthy of a wide managerial readership.'
Dr Wilson Wong, Academic Fellow CIPD
'Professional HR is every bit as ground breaking as his previous book HR Strategy: Creating Business Strategy with Human Capital. Kearns' new work points out clearly that the lack of professionalism and standards are destroying the public's faith in business, and in many cases, businesses themselves. He makes it clear that evidence-based professional HR management is the way to stem the tide. This book is a blueprint for training a new generation of true HR professionals.'
Patricia Turnham, Kaplan University, USA
'Amidst the fallout of a deep economic depression, the malaise organisations find themselves operating within affords a very real opportunity for HR professionals. HR has the chance to become what it has failed to do since its strategic aspirations were first voiced in the 1990's; the chance to become a value proposition for organisations. This value proposition is about demonstrating that the very best people management is a route to healthy, vibrant and sustainable organisations that produce real value for all stakeholders. Paul Kearns' book shows how and why HR professionals should take this opportunity and reposition both themselves and their own organisations to succeed in the 21st Century.'
Stuart Woollard, Kings College London, UK
'In this book Paul Kearns provides a compelling vision for the future of the HR professional and the HR profession. This vision challenges the HR professional to approach their role in a far more reflective and evidence based way. Kearns provides a convincing prescription for how a more professional and mature HR practitioner can deliver on the potential and value of human capital which remains untapped in many organisations.'
Prof. David Collings, Professor of HRM, Dublin City University, Editor, Human Resource Management Journal.